Description

Style:

Blend of Gueuze & Mead

Collections:

Beer,
30 % Mead made from fermented honey and 70 % three year old Gueze are blended, matured in the bottle for about 4 months and will be released for Christmas and New Year 2001.

Lurgashall Mead:
Lurgashall Mead is produced at the Lurgashall Winery, on the ancient Manorial Estate of Windfallwood Common, near Petworth in West-Sussex, where mead, fruit and flower wines and liqueurs have been produced to the highest standards, using old village recipes.

Hanssens Gueze:
Each batch of the Gueuze offers different aromas and flavors only based on the century old knowledge of the Hanssens family. It's bottled, corked and stored in the cellar for secondary fermentation at 50o-55oF for over one year. In this case 3 year old Gueze.

All Abour Beer, MAY 2002, page 47

Charles Finkel - Merchant du Vin:
A primeval, perfect pint. Early most brewsters surely made a drink with spontaneously fermented malt and wheat, along with good measure [30%] mead [honey beverage]. Here, a super sensual perfume flares one's nostrils, like those of a wild animal. Complex contrast defines the fruity taste which begs for flavorful food. We served it with mixed organic vegetables and sustainably grown lamb. The balance of acidity and sweetness complemented each dish. Afterward my sweetie and I shared the glass with a local, organic pear, raw-mil Roquefort and olive bread. We are back on our honeymoon.

Charles Papazin:
Seventy percent gueuze, thirty percent mead. The concept is extraordinary, creative, and a match made in heaven, combining the complexity of Belgian style guezue with a delicate touch of honey. Crisp, refreshing, well-carbonated [be careful when opening] with wonderful balance between acidic, floral and fruity character. If taste, aroma and appearance are sole measures of excellence, this beverage is a winner! Absolutely fantastic!

Roger Protz:
Extremely pale, hazy color with a deep collar of snowy foam, this is a blend of mead made by Lurgashall winery in England with Hanssens Gueuze from Belgium; the blend 30:70 in favor of gueuze. The aroma is honey rich, balanced by traditional "horse-blanket" musty sourness of gueuze. The palate is fruity, tart but not too sour thanks to the welcome presence of honey. The finish starts sweet but dries into into a slight sour and nutty end. Intriguing and delicious: the blend works well.

---
Appearance:
Golden orange with small bubbly head with no retention or lacing.
Aroma:
Honey rich, balanced by the traditional "horse blanket" musty sourness of gueuze.
Flavor:
Fruity, tart but not too sour thanks to the presence of honey.
Finish:
Starts sweet but dries into a slightly sour and nutty end.
---
---
| | | | |
| --- | --- | --- | --- |
| Version: | Type: | Size: | UPC/EAN: |
| | Case | 24 * 12.7 oz. Bottle(s) | 0 62067 02807 6 |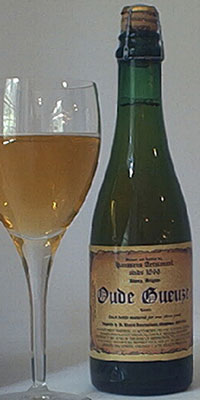 Picture: Mead the Gueuze 12.7oz bottle.