Description

Style:

Aged E.Dupont Calvados barrel

Collections:

Cider & Perry,
Etienne Dupont's Cidre Reserve 2004 is made from Etienne Dupont Cidre which has specially been aged in oak casks which previously contained Calvados. The fermentation takes place for 5 months in these 400L oak barrels.

The orchard: There are now 6000 trees of typica Pays d'Auge apple varieties. The trees average twelve years of age. The older the tree, the less the yield, and the better the character of fruit. Also, the low trees contain apples with more sugar. Therefore, much of the orchard is composed of low trees. Typical varieties include Saint-Martin, Binet, Noel de champs, Mettais, Frequin and Rouge Duret. Most are bitter sweet. Sweet, acidic, and tannic apples are all used in the same proportion for balance.

Etienne Dupont believes that only one great cider can be made, given any set of apples, because the balance has to be perfect. There are three maturities for each general category of apples [bitter, sweet, acidic], giving nine types in all. Each type is collected at three different times between October and December subject to maturity. Soil is, calcareous, and marly. This soil produces small fruit with highly concentrated flavors perfect for the production of cider. No nitrates are used, allowing for a slow, complete fermentation. Nitrates act like steroids in apples, bulking the fruit up with water and lessening concentration of flavor. They are thus, undesirable. More importantly, apples are picked manually, making the quality of fruit consistantly high.

However the product can in some cases last far longer than this. More acidic vintages will tend to hold on longer. Great ripening vintages with higher alcohol in the end product will last a bit longer as well. Tartness and earthiness become dominant after a few years.

Accolades:
The only cider to achieve Ale Street News' 5 stars (out of 11 ciders) "The 1997 Dupont was like biting into a fresh apple, lots of flavor that kept going to the end." ***** Tony Forder - Ale Street News

Miscellaneous:
Not designated AOC. The reason is, that every vintage needs to be sent for certification. By the time all of the paperwork is done, we would be receiving old cider for our customers in the US. However, the Domaine Dupont Cidre Bouche Fermier meets all the standards to be classified an AOC cider in all aspects of production. Some requirements include mandatory orchard cultivation practices, specific apple varieties to be used, maximum yield of juice per ton of apples, and minimum length of fermentation.

---
Appearance:
Gold, hazy, velvety.
Aroma:
First leather, changes into a yeast nose after airation.
Flavor:
Powerful, potent, lingering, long finish, velvet like, round, fruity, calvados, butter-scotch and vanilla flavors. As it ages, the aromatic persistence improves, and the cider becomes more complex and the froth thinner.
Finish:
Dry and sweet.
---
---
| | | | |
| --- | --- | --- | --- |
| Version: | Type: | Size: | UPC/EAN: |
| | Case | 6 * 11.2 oz. Bottle(s) | 3 549750 633016 |
| (PA only) | Case | 12 * 25.4 oz. Bottle(s) | |
| Aged in E.Dupont Calvados barrel | Case | 6 * 25.4 oz. Bottle(s) | 0 62067 02824 3 |
| Aged in E.Dupont Calvados barrel | Keg | 1 * 5.3 gal. Keg | |
| Aged in E.Dupont Calvados barrel | Keg | 1 * 7.9 gal. Keg | |
| Aged in E.Dupont Calvados barrel | Firkin | 1 * 10.8 gal. Cask | |
| Vintage 2016 | Case | 6 * 25.4 oz. Bottle(s) | |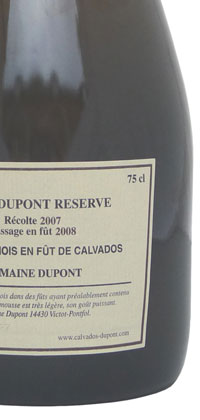 Picture: Cidre Reserve E. Dupont 750mL bottle.