Publisher:


Serious Eats



Date Published:


03/18/2015



Description / Excerpt:


"When you picture Italy, it's likely you're envisioning tender strands of pasta and intensely-flavored vegetables, plates of luscious cured meat, and glasses full of wine: all products of the country's unique soil, climate, and culture. But these days, you'd be missing an element that's recently been electrifying Italy's food scene: craft beer.

"What Italy may lack in brewing history, it makes up for with impressive creativity. Today's Italian brewers have very few preconceived notions, and they face few laws or restrictions about how or what to brew. While influenced by the great beers of Belgium, Germany, and the U.S, beer from Italy stands out right now as something distinctly Italian..."



Credits:


Anne Becerra



URL:


http://www.seriouseats.com/2015/03/best-italian-craft-beer-baladin-del-borgo-pausa-cafe.html





Publisher:


Swide online



Date Published:


09/19/2013



Description / Excerpt:


"Italy used to be though of a wine-only country, but not any more. In the last 10 years beer brewing has exploded in Italy. From artisan micro breweries, to home-brew enthusiasts up and down the length of Italy, beer is booming. Swide spoke to Italy's leading beer expert Lorenzo Dabove, one of the founding fathers of the current beer movement, and found out what are the characteristics of Italian craft beer and what are the 10 best beers in Italy. Cheers..."




Credits:


Hugo Mc Cafferty, Swide online



URL:


http://www.swide.com/food-travel/wine-and-cocktail/top-10-best-italian-craft-beers/photo-gallery/1-10





Publisher:


La Cucina Italiana



Date Published:


05/10/2012



Description / Excerpt:


"Perched at 1,000 feet above sea level, Bricco di Neive, population 60, overlooks some of the most prized vineyards in Barbaresco. In Piedmontese dialect, bricco or bric refers to the highest peak of a group of hills in the region. For generations, locals, including famed winemaker Bruno Giacosa, have spent their days crafting some of Italy's finest wines here. While many climb these remote hills to taste the fruits of their labor, this small province also has become a destination for another prize, one that draws crowds of up to 300 on any given Saturday. They come from around the world to drink the beer at the brewery, bar and restaurant CitaBiunda.

This craft beer outpost is responsible for elegant brews like BiancaNeive, a rich wheat beer with pronounced aromas of banana, orange peel and coriander, and SensuAle, a corpulent amber ale with surprisingly complex aromas. They, among others, are the handcrafted products of Marco Marengo, a 32-year-old brewer from nearby Alba, who started CitaBiunda with his childhood friend, Stefano Lombardi, in the center of Neive five years ago.

Today, Marengo produces 35,000 liters per year, and he's not alone. There are currently more than 430 microbreweries operating in Italy, and this number is expected to reach 500 by the end of the year. Fifteen years ago, annual consumption of artisanal beer was about 4,200 U.S. barrels—today it is 383,475 U.S. barrels, says Teo Musso, owner of the Le Baladin brewery, bar and restaurant empire. Quite a wave, considering the first bottles of craft Italian beer appeared on the market in the mid-1990s.

From Torino to Taormina, "birra artigianale"—unpasteurized and unfiltered beer made on a small scale from quality ingredients—has won the hearts of the food savvy. It is a trend that few saw coming in a notoriously wine-centric culture. But a combination of creative, bold brewers, regulatory freedom and a fan base with a receptive palate has catapulted it into the spotlight of the contemporary Italian food scene..."



Credits:


Marisa Huff



URL:


http://lacucinaitalianamagazine.com/article/the-new-birra-italiana





Publisher:


Beer Chronicles



Date Published:


06/11/2010



Description / Excerpt:


"Yesterday afternoon in Rome the 2011 Italian beer Guide by Slow Food was officially presented. As you may know, this is one of the most important issue on Italian craft beer, which offers a detailed survey on Italian brewers and their beers, with descriptions, specifications and evaluations. The event was hosted by Vinòforum, a long standing Capitoline wine event. Certainly not a "friendly environment", but this suggests the important status achieved by beer among wine lovers..."



Credits:


Andrea Turco, Beer Chronicles



URL:


http://www.beer-chronicles.com/articles-books-media/565/introducing-the-slow-food-guida-alle-birre-ditalia-2011/





Publisher:


Bon Apetit



Date Published:


06/01/2010



Description / Excerpt:


The country known for Pinot Grigio and Super Tuscans has recently become a creative frontier for beer.



Credits:


Justin Philips



URL:


http://www.bonappetit.com/





Publisher:


Saveur Issue #123



Date Published:


09/01/2009



Description / Excerpt:


"Italy's bold new craft brews tend to feature unexpected combinations of flavorings—honey, say, with coriander—that make for palate-awakening interplays of sweetness and bitterness, fruit and spice."



Credits:


Karen Shimizu



URL:


http://www.saveur.com/article/Wine-and-Drink/Tasting-Notes-Italian-Craft-Beers





Publisher:


Eating Las Vegas



Date Published:


11/10/2008



Description / Excerpt:


"Just as satisfying (and more than a little surprising) was discovering seven artisanal, unique beers and ales on the menu. We say surprising because Otton, for all his good sense and good taste, doesn't partake of alcoholic beverages (even chestnut-flavored, coriander-spiced, or triple-fermented sour ales….pity)."



Credits:


John Curtas



URL:


http://www.eatinglv.com/2008/11/settebello-opens-in-new-location-the-food-world-rejoices/





Publisher:


New York Times



Date Published:


11/02/2008



Description / Excerpt:


"HALFWAY through our six-course tasting menu of regional Piemontese cuisine, the sommelier arrived with a special beverage to accompany the plate of raviolini stuffed with local pumpkin and asparagus..."



Credits:


Evan Rail



URL:


http://travel.nytimes.com/2008/11/02/travel/02Beer.html





Publisher:


San Francisco Chronicle



Date Published:


07/18/2008



Description / Excerpt:


"In the mid-'90s, early Italian pioneers like Agostino Arioli at Birrificio Italiano and Teo Musso at Birreria Baladin made the jump from home brew to brewpub; today there are almost 200 craft microbreweries and brewpubs operating in Italy - mostly in the north, but new breweries have also appeared in Parma, Rome and even Sardinia."



Credits:


Jim Clarke



URL:


http://www.sfgate.com/cgi-bin/article.cgi?f=/c/a/2008/07/17/WIHK10HN10.DTL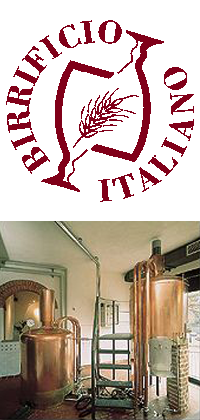 Picture: Birrificio Italiano logo and brewery.